I can't believe that my birthday is in 5 days! I didn't realize how soon it was until I wrote down today's date at work!
I've already gotten my gift from Dave (a super fancy DSLR), but I couldn't resist making a list of things that I love anyway...
I'm head over heels for this clock! I've been wanting an authentic?vintage cuckoo clock for quite a few years. However, the "kitsch" quotient of this new one is just perfect (and the price isn't bad either).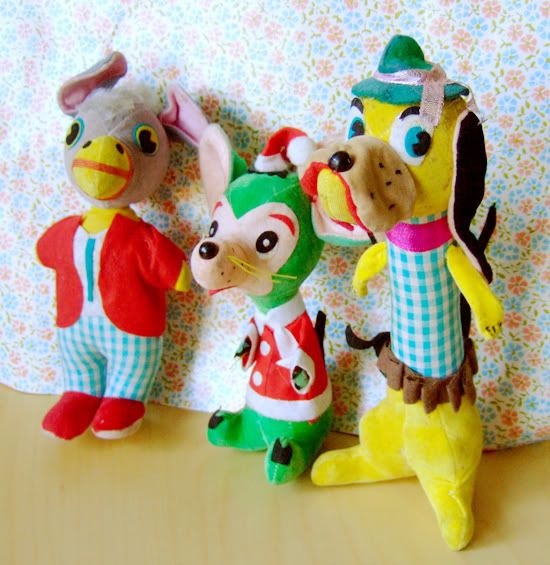 Vintage Dreampets are so cute, I could cry. I guess that doesn't really seem like a rational reaction, but whatever. I would lose my head if I came home to a pile of the precious lil' bebes. I would.
OMG. This teapot. Can you handle it?
A portable turntable! I have a really nice turntable in the living room, but it's huge. When I'm working on things in the craft room, I'd love to be able to listen to records, too. The most fun! dancepartycraftparty.
So, if I hadn't already received the perfect birthday gift, these are the things I would be subtly* bringing up in conversation.
*subtly = "hey did you see this turntable? my birthday would be terrible if i didn't get it"
<3
Robbie.
Coming Up...
-A Finished Pair of Socks!
-Vintage Thanksgiving Inspiration.
-Retro Readers Review: James and the Giant Peach.
-Work in Progress: Rewrites Bulletin Board.
-maybe a Friday Vocab Lesson?